Somerset's Dragons and Damsels
May sees the beginning of very early mornings, beautiful sunrises and dew, lots and lots of dew not to mention the start of the emergence of dragonflies and damselflies on the Somerset Levels. This year, armed with my Gitzo tripod, Manfrotto Lumimuse, new Sigma 180mm macro lens and bags of creative ideas it was time to captured these beautiful creatures in a whole new way. There is no doubt that they are favourite subjects for many people and finding new ways to photograph them would be challenge and one I was willing to meet head on.
I have two sites I go to as I believe getting to know just a couple of sites can really pay off in terms of your resulting images, luckily these two sites are only 5-10 minutes apart. Really getting to know the habitat and inhabitants is key when looking for new ideas and angles on such popular species and after a few days it was easy to see the most popular roosting sites for the different dragonflies and damselflies. This year I have also challenge myself to shoot in black and white, I know you can convert colours images in post processing etc etc, but I actually prefer to shoot in black and white to know that I have the image I want before leaving for home. I have found this has a huge impact on composition, by removing colour you really focus (no pun intended) on the composition and lighting of the image.
Starting with the dragons, and just two species, the four spotted chaser (
Libellula quadrimaculata
) and the broad bodied chaser (
Libellula depressa
)
Early in the morning before the sun has risen from the behind the bank of trees they can often be found low down in the long grass
As the sun starts to rise and the dragonflies start to dry out they slowly make their way upwards
Until they reach the top of a sturdy stem
Just as the sun starts to burst through the trees
The early mornings in May normally mean a lot of dew and very wet conditions which are beautiful for photographing the dew covered wings and especially in a moody high contrast black and white
As well as the close-up work I have been enjoying capturing them in their habitats as well giving them a little more space around them
Moving away from the dragonflies, there is a huge variety of damselflies on the Somerset Levels too, including variable damselfly (
Coenagrion pulchellum
), common blue damselfly (
Enallagma cyathigerum
), Azure damselfly (
Coenagrion puella
), large red damselfly (
Pyrrhosoma nymphula
) and the red-eyed damselfly (
Erythromma najas
), so a lot to choose from.
Some mornings produce the most incredible sunrises, colours and light
Not to mention dew, unlike dragonflies, damselflies roost with their wings together so it can take a few minutes to get your eye in, but once you start seeing them your off.
For me damselflies are bursting with character, more so than dragonflies, and trying to capture that character was one of my aims this year, from hiding behind grass stems and plants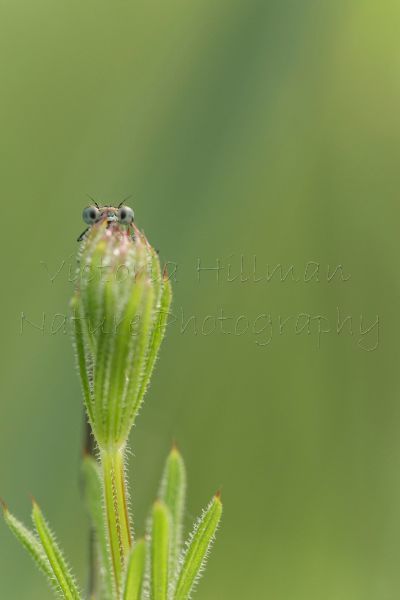 To friendly faces and waves
not to mention warming up on the rocks
As with the dragonflies I also wanted to show them in their habitat as well and you can often find them on the bracken
And every now and then you find a pair of brilliant blue eyes starting out at you from within a world of green
I have really enjoyed spending so much time with them this year and look forward to their return next spring. But for now, I hope you've enjoyed my insight to the dragons and damsels of Somerset and as I continue to go through the images I will be posting more images as I go through them to both my
Facebook
and
Instagram
pages so pop over and take a look.
As things start to quieten down on the wildlife front I will be catching up on blog posts and sorting out workshops and events for next year. I am thinking about running a dragonfly and damselfly workshop next year, if you would be interested in attending please drop me an email at victoria.vikspics@gmail.com it will be an early start and will take place on the Somerset Levels. I am very keen to run a day if there is enough interest.
Time to get back tot he image sorting, bye for now